Call toll free 877-4ABOLISH
877-422-6547

Specials
Valued Customer,
Here at ABOLISH, we are closing out the books for the end of the year. We would appreciate your assistance speeding up the process by mailing in your balance as soon as possible. This will definitely help us out a great deal. It is possible to prepay your services and be able to write off the service, this year for your taxes. If you have any questions please call
PREPAY SERVICES AND SAVE

**PREPAY 1 SERVICES AND SAVE $3.00
**PREPAY 2 SERVICES AND SAVE $7.00
**PREPAY 3 SERVICES AND SAVE $11.00
**PREPAY 4 SERVICES AND SAVE $15.00
**PREPAY 5 SERVICES AND GET A SERVICE FREE
**PREPAY 10 SERVICES AND GET 3 FREE SERVICES

Refer Customers and Save BIG$$$

*REFER1 Customer SAVE$10.00
*REFER2 Customer's SAVE$25.00
*REFER6 Customers SAVE$100.00
*NO CASH BACK/DEDUCTIONS OFF SERVICE
**DEPENDING ON THE PRICE OF THE JOB
NOT VALID WITH OTHER COUPONS
OFFERS ARE SUBJECT TO CHANGE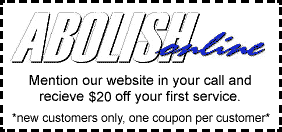 Please print coupon and give to technician.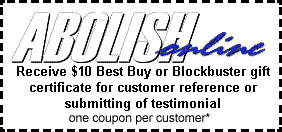 After customer reference or submitting of Testimonial
contact us with the appropriate information
Call toll free 877-4ABOLISH
877-422-6547