Call toll free 877-4ABOLISH
877-422-6547
If you have any questions go to the contact page with your question.
What do you do with the animals once they are captured?
All animals are released in a remote location with access to water and food away from residential areas. Pigeons are kept for a period of 3-6 months in order to disrupt their homing abilities.
What is the pricing for the job?
Prices may vary depending from job to job. Depending on the situation, Most jobs starting price is $150 to $250.
Can't the city or county take care of the problem?
Some counties take care of problems if they are on city property, it various from county to county. You may want to check with your local animal control first.
Do you use poisons?
Yes, we use poisons for certain situations, pests, and rodents. We do not use poisons on animals.
Would the poisons harm pets or children?
No, all of our technicians are experienced and target pests not children or pets. The pesticides are designed to only harm something smaller than the size of a lizard.
Do you do termites?
No, but we may refer you to someone
Do you pick up dead animals?
All day long, If it is on city property the county may take care of it. But you may call us and there will be a fee.
Do you take care of dogs or cats?
We will remove dead cats and dogs for a fee. Live cats and dogs may be removed as well but it is recommended to call your local animal control.
Which animals do you handle?
We handle any rodent or wild animal except: Coyotes, Mountain Lions, Cougars, Bears, etc.
What types of traps do you use?
It depends on the pest problem and situation. We use humane live traps baited with food and water, snap traps, bait stations, and glue traps. Humane live traps may be requested for rats and/or mice.
Why do you use lethal traps on mice and rats?
Mice and Rats are hazardous rodents. It is not wise to live trap disease carrying rodents. Live trapping may be requested for an additional charge.
How much does it cost for an inspection?
Inspections vary depending on the type of service needed.
What's the difference between an inspection fee and estimate?
Inspection fee is cost to inspect the job and figure what needs to be done, estimate is written or verbal estimate to see how much the job MAY cost.
What do I do if I get bit by a wild animal?
Contact your local hospital.
Why do I have to leave the house?
State law requires you to leave the house if your not a trained technician
Do you service restaurants?
No, unless it works within our service hours which is between 9-5. Anything after is considered Emergency service.
Why we may be late
---
Abolish leaves a two hour window of service. After each job the technician may finish earlier or later than expected. When dealing with bees, birds, or any other animals you never know what surprises they may leave behind. For the most part, our technicians arrive within their two hour window. If they are running past their two hour window, please consider what the technician may have encountered.
Apart from jobs, there are other situations that are out of our hands. For instance, Traffic is at times unpredictable and when it is bad it is bad. Car accidents can badly congest the freeways and it may take an hour of traffic to get to the job site. Here is an example of a true story.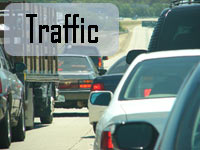 "2pm appointment is set, the job is only 30 minutes away. Nothing else is interfering with the schedule, So You leave at 1:15 to get to the job that should be only 30 minutes away. Well on the way there 5 min before you get to travel down the freeway there is a traffic accident Freeway is closed, your in a bad reception area. Here are the pictures to give you an example of a this situation. The office has no idea what has happened, the customer has no idea and the technician has no reception, just an average day at work."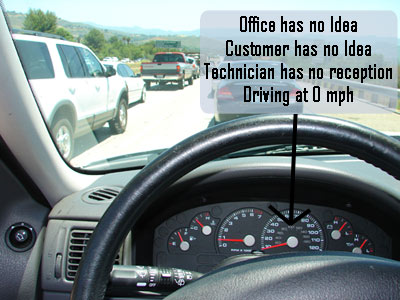 Here is another real situation:
We get a call that a rat is in the house. We show up and estimate that it will take us an hour or 2 hours to get the rat out of the house. The kids are scared, they won't leave their bedrooms, the wife is running around and the husband is at work. Once we arrive the rat decides to run from one room to another room. We solved that room now the rat decided to run underneath the dish washer. Then, after we take out the dish washer, disassembled it to get the rat. We encounter another rat that is running around. Our 2 hour window that we allowed our technician for has run into the 3 hour mark. Now there is a live rat running around in the house, are we supposed to say sorry we have to leave because we have another appointment to get to within their 2 hour window or should the customer understand that the estimate has gone over time and we always get the job done.
Call toll free 877-4ABOLISH
877-422-6547