Call toll free 877-4ABOLISH
877-422-6547
Wasp & Yellowjacket Control
Gallery | Video
Abolish Pest Control are professionals when it comes to identifying the problem, removing the Wasps and Yellowjackets. Wasp Control is what we do.. Unlike other conventional pest control companies who only kill the bees but don't fully solve the problem, we find the hive, remove the bees, remove the hive and prevent future infestations of the area. That is true bee control! Our Bee Control technicians are fully trained and are professionals when it comes to dealing with bees. Please do not attempt to remove bees or bee hives without the proper equipment and experience. Give us a call. We service Southern California for Bee Control.

Yellowjacket
Family Vespidae
Summer and early Fall are the wasps most active time. During this time, they tend to be aggressive and numerous. There are a wide variety of yellowjackets throughout the United States; the common being the Western and German Yellowjacket.
Distinguishing characteristics:
Yellowjackets are heavybodied wasps, black with yellow or white markings, about 1/2 inch long. They live in grey, papery nests located either belowground, or suspended aboveground. The nests have only a single opening. Take caution if stung, a scent is left marking you as an enemy
Control Method :
The Western Yellowjacket nests underground such as in hilly areas and abandoned rodent burrows. The German Yellowjacket nests above ground in crevices, cavities, and trees. The best way to control yellowjackets is by removal of the nest with the use of insecticide sprays or powder.

Wasp
Family Vespidae
Most species scavenge on dead animal and plant material. Eggs are laid in underground burrows. Paper Wasps
Distinguishing characteristics:
Species range from ½" to 1" in length, and from yellow to jet black in color. Some species are marked with stripe or bands on the body.
Control Method :
Paper wasps build nests under any horizontal surface and are commonly found on limbs, overhangs, eaves of buildings, beams and supports in attics, garages, barns, sheds, and other similar places. Ridding the nest at night is the safest and most effective control method. Again, when dealing with pests, be sure to also elminate any food source such as exposed garbage cans. Removal of unexposed nests such as in walls or attics should be dealt with insecticide dust by a pest control company.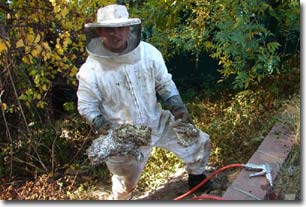 Yellowjacket nest removal:
Yellowjacket nests can be found in burrows, crevices, inside walls, and other enclosed areas.
Call toll free 877-4ABOLISH
877-422-6547